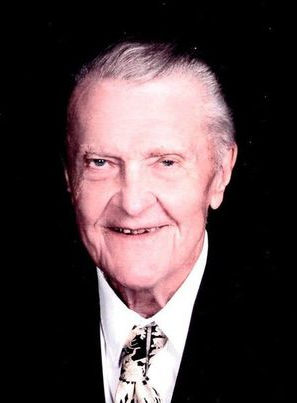 Dr. Don C. Miller, 91 May 25, 1923 - March 22, 2015

Dr. Don C. Miller 91, of Rush County, entered Heavenly rest on March 22, 2015. He was born May 25, 1923 on the farm where he lived most of his life. He was the son of Claude and Gertie (Redenbaugh) Miller. Don married Sue Wyman in 1946 and she preceded him in death in 2000. He married Sandra Hawkins in 2010 and she survives.
Also surviving are his sister-in-law Rachel Wyman Bockstege of Hollywood, Florida; five nephews; and two nieces. He was preceded in death by his parents, spouse Sue, sister Winfrey Miller and sister-in-law Mildred Wyman Norvell.
Don graduated from Milroy High School in 1941. He received his bachelor's degree from Ohio State University, his master's degree from the University of Illinois and his doctorate degree in electrical engineering from Purdue University.
During WWII, Don served first in the US Army Signal Corp, then was selected for the Army Special Training Program. He was assigned duty at the Trinity test site near Alamogordo, New Mexico as part of the Manhattan Project.
Most of Don 's working career was with Naval Avionics of Indianapolis in the research department. He retired in 1990. Don founded and owned Wyman Research, Inc. which manufactured electrical components from 1988 until 2000.
Don loved archaeology and served in several capacities with the Indiana Archaeology Society, including President, Vice-President, and State Editor. He wrote and had published the only series of the "Indiana Archaeological Society Yearbook" that has ever come to press. Among several awards, the most recent was the Indiana Archaeological Society Lifetime Achievement Award.
Don was also a member of the National Association of Amateur Radio Operators, receiving his HAM license in 1943. He served as moderator at several convention forums. In 1972, Don was presented an award for "Outstanding Achievement and Devotion" to the art of amateur radio.
Don organized and/or participated in 20 missions to Haiti. These missions built numerous churches and schools throughout Haiti. He also supported missionaries in Columbia, South America.
Funeral services will be held at 10:30 a.m. Saturday, March 28 at the Moscow Christian Church in Moscow, IN., with Pastor Mark Wesner officiating. Visitation will be held from 5 to 8 p.m. Friday March 28 at the Glenn E. George Funeral Home in St. Paul and from 9:30 a.m. until time of service on Saturday. Memorial contributions may be made to OUR Hospice of South Central Indiana or Moscow Christian Church c/o FH.

A graveside military service will be conducted by local veterans organizations.