Darrell Lee Cross, age 61, of Ingalls Indiana, passed away on December 5, 2010, at Regency Place of Greenfield Indiana. Born on July 4, 1949, in Anderson Indiana, he was the son of Robert Lee and Jean (Bohall) Cross. Darrell graduated from Fortville High School and worked at Church Brothers as an auto body technician and manager for over 20 years. He had married Carla DeMarco on February 14, 1996, in Indianapolis. He served in the U.S. Army and received a Purple Heart for his service during the Vietnam War.
He was also a member of the Indiana Archeological Society and received many awards for his Native American Artifacts. He and his buddy, Jeff Anderson, walked many miles together finding artifacts over the years.
Darrell started collecting Indian relics at an early age. His father gave him three exceptional slate relics that he found while he worked at Tuttle's Orchard in Hancock County Indiana. His father worked at the Orchard as a laborer in exchange for room and board during the depression of the 1930's.
Darrell attended many Indiana Archaeological Society and the Owensboro Kentucky relic shows, showing many of his fine relics. He won many ribbons and plaques at these shows. Darrell was quiet and soft spoken, known often by face by many of the shows attendees. One of his favorite shows was the New Castle Indiana show.
He retired from work after being injured in an auto accident in the mid 1990's which also curbed his ability to field hunt relics, but could not dampen his spirit to attend relic shows or discussions on many topics which he was interested.
Jeff met Darrell in a bean field in the early 1980s while both were hunting Indian relics. The field, along Lick Creek north of Ingalls, has produced some very nice relics. They hunted together for over 20 years, often every available day, typically hitting the road every weekend, before sunup, and leave the field dog tired only when the sun was setting. Often even on holidays.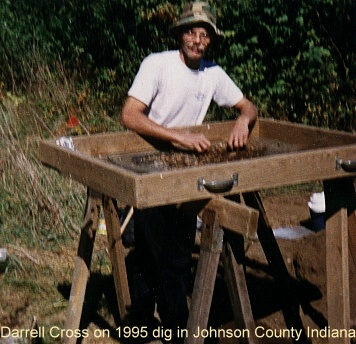 Some of the relic related columns written in which he was mentioned and published in the Central States Archaeological Societies journal or Indian Artifacts Magazine are:
1) Taking Darrell's truck out for a push CSAJ Spring 2003
2) Life Under the Plow Zone IAM Vol 22-2
3) The Grassy Pendant IAM Vol 19-4
4) GI Joe
5) Tanks You IAM Vol 17-1
6) Dog Days IAM Vol 16-4; CSAJ Vol 45-2
7) My First Clovis IAM Vol 16-3
Surviving him are his wife, Carla (DeMarco) Cross of Ingalls; children, Marcelle Cross Harlow of Anderson and Sky Lynsey Godwin Cross of Ingalls; siblings, Danny Cross of Pendleton, Donna Mullins of Greenfield, and Doug Cross of Greenfield; mother, Jean Bohall Cross of Greenfield; and four grandchildren, Travis Harlow, Cheyenne Harlow, Mikayla Harlow, and Ericksen Slate. He was preceded in death by his father.

We are going to miss his soft voice, and his sense of humor: a friend.