| | |
| --- | --- |
| Hunting previously brought only disappointment | by Mark Crawford |
| Central States Archaeological Societies 2007 April Journal | West Frankfort, Illinois |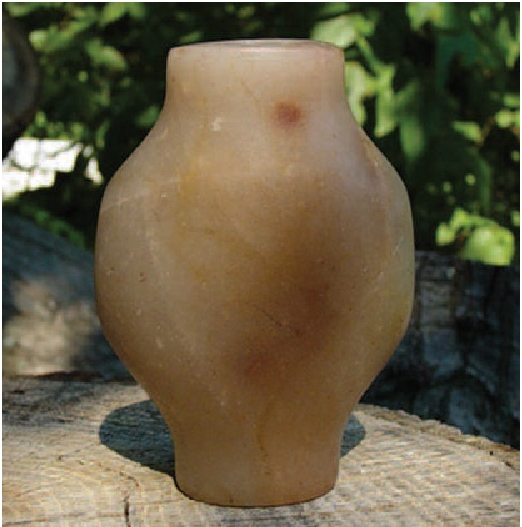 This uniface bottle type bannerstone is made of slightly reddish ferruginous quartz. It was a surface find in June 2005 on Pond Creek in Franklin County, Illinois by Mark Crawford. This beautiful bottle bannerstone measures 3 inches in length, 2 1/8 inches in width maximum and the bottlenecks are 1 1/8 inches in diameter. The perforation has parallel circumferential grooves. The find was in a soybean field with widely spaced rows and lots of bare earth between the rows and the beans were not very tall as to provide a hindrance. It seemed that I would be done looking for the season as this site was only a disappointment until I virtually stepped over this artifact. At first I did not recognize what it was even fully exposed with a plug of mud in the hole. Then I picked it up and realized what I had found, this beautiful bannerstone with rust coloring. My disappointment was surely over for that year!
Copyright © C.S.A.S.I.