| | |
| --- | --- |
| The Boney Paleo Indian Site is an early man campsite located in Greensville County, Virginia. | Rodney M. Peck |
| Central States Archaeological Societies 2004 January Journal | Kannapolis, North Carolina |

The Boney Paleo Indian Site is an early man campsite located in Greensville County, Virginia. Sometime referred to as the Greensville County Site (McAvoy, 1992), its more appropriate name is the Boney Site, named after the site's principal investigator, Mr. J. Howard Boney of Emporia, Virginia. This site was discovered by Mr. Boney in 1981, and he and his family have found almost all the artifacts recovered from this Paleo Indian site, which is one of the more significant early man sites in Virginia.
Location and Geological Consideration
The Boney Site is situated on an elevated sandy terrace, adjacent to one of the many swampy tributaries of the Meherrin River Basin. It is located on a privately owned farm and protected from the public; hence its scientific value will not be destroyed. The Boney Site is several acres in size and is approximately thirty miles south of the Williamson Paleo Indian Workshop Site that is located in Dinwiddie County, Virginia.

There seems to be a tie between Paleo Indians and certain geographic features and characteristics. One major feature is the regional drainage of major rivers through the Southeast. One example is a particularly heavy concentration of Clovis and Clovis-like points from Granville County, North Carolina (94 points), and Mecklenburg County, Virginia (131 points), immediately adjacent to each other. Other Paleo Indian sites which lie near major river drainages are the Plenge, Shoop, Welling, Nobles Pond, Hardaway and Baucom, just to name a few.

Another geological feature is the raw lithic material used by early man. Fluted points and fluted point sites usually occur near a high quality raw lithic source. This source of material, or quarry, would also play an important part in the migration of Early Man. These quarries could have served as two different types of sites: (1) a base quarry, where Early Man lived and hunted out of, or (2) a quarry reduction site, where early man would manufacture preforms, finished points, and tools. From these quarry sites we would see the migrations of early man following herds of animals to hunt and camping near river basins, swamps, and creeks. This latter type of camp is what the Boney Site probably was, for the lithic material used at this campsite provides extremely strong evidence that he migrated south from the famous Williamson Paleo Indian Workshop Site.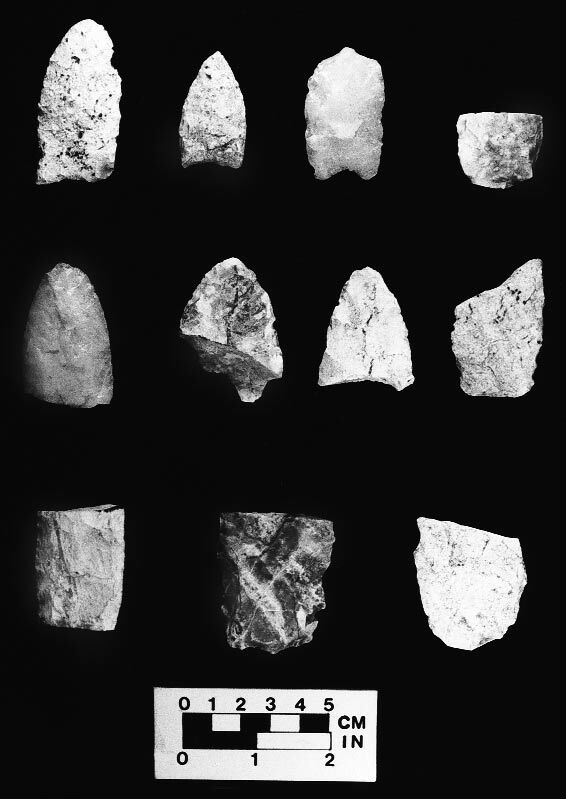 Lithic Material
Most of the lithic material at the Boney Site is known as Cattail Creek Chalcedony. This chalcedony comes from the Williamson Site and was used by the Paleo Indians extensively at this Early Man campsite. This material consists mainly of variegated chalcedony with cream, gray, blue and brown colors dominating. Other colors such as black, red, orange and yellow are also present. Some of this chalcedony is translucent, and all is easy to identify.

Other stone materials found at the site are quartzite, white quartz, petrified wood and crystal quartz, which all could be native to the area. Stone materials not native to the area but found at the site are silicified shale and rhyolite from North Carolina and a small quantity of flint from the Appalachian Mountains.

Approximately 99% of all the lithic material is Cattail Creek Chalcedony from the Williamson Site. The material is scattered throughout the site; however, there are seven areas of heavy Paleo Indian concentrations where Clovis points, tools, preforms, cores and flakes are present. The hundreds of flakes present provide evidence that Paleo Indians brought raw material to the site from which to make finished points and tools.
Projectile Points
Among the fluted projectile points found in North America, there is a wide range of variation. As a general rule, fluted points are superbly made and have fine secondary flaking. The distinguishing feature, of course, is the longitudinal basal fluting of the point, which may run the length of the blade or can be quite short. The Clovis-like points from the Boney Site fall into two rather distinct shapes or forms: (1) convex-sided points or those whose sides diverge from the base to within approximately one-half to two-thirds of the distance to the tip and (2) parallel-sided points.

The fluted projectile points recovered from the Boney Site were made from bifacial cores (blanks and performs). The bifacial cores were reduced to rough blanks, then to performs by The Boney Site: A Paleo Indian Site In Greensville County, Virginia




Plate 1: Sample of finished Clovis points, broken bases and tips of preforms from the Boney Site, Greensville County, Virginia, found by Howard Boney. (Study Collection of Rodney M. Peck).



transverse and longitudinal fluting. Archaeologist Floyd Painter's "Cattail Creek Fluting Tradition" (Painter, 1970) gives a good description on how the majority of the Williamson's fluted points were manufactured by Early Man.

All the fluted projectile points recovered from the site belong in the Clovis-like variety. To date there have been thirteen Clovis-like points recovered: nine made of Cattail Creek Chalcedony, three of white quartz, one of crystal quartz, and one of silicified shale. See Plate 1 for a representative sample of finished points, broken bases and tips of preforms.
Scrapers and Tools
To date over 250 scrapers and tools have been discovered at the site, with almost all being made of the Cattail Creek Chalcedony. As previously stated, major concentrations on the site indicate these tools were used in particular areas. Large scrapers, hammer stones, etc., found indicate heavy work. However, fine
scrapers and tools made from blades struck from cores indicate fine, delicate work. A selection of the fine tools consisting of end scrapers and combination scrapers with graver spurs and spoke shaves are pictured in Plate 2.

It is well documented in Virginia and throughout North America that these hunters specialized in the making of fine snub-nose end scrapers, thumbnail scrapers, knives, perforators, gravers, combination scrapers with graver spurs and spoke shaves, knives, and other tools. Most Paleo Indian sites show evidence that these scrapers and tools played a very important role in early man's livelihood, since they can outnumber the fluted points fifty to one or perhaps more.
Summary
The current view of early man in North America envisions bands of hunters entering the North American continent approximately 15,000 years ago by crossing a land bridge that connected eastern Siberia with Alaska. This land bridge was created during the Late Pleistocene by continent-size glaciers. There is much debate today between Clovis and pre- Clovis, and with much study by archaeologists, perhaps a pre-Clovis site will be discovered with which everyone will be in agreement.

The Boney Paleo Indian Camp site was ideally situated (as are all major sites) from the ecological standpoint of Early Man. (1) It was located at a good elevated sandy terrace adjacent to one of the many swampy tributaries of the Meherrin River. (2) The site is only approximately thirty miles from a high quality lithic source, the Williamson Site. (3)

The Boney Site is geographically situated a few miles east of the Fall Line Zone, the eastern limit of the Piedmont Province, the point where the last downstream falls and rapids occur as the river leaves the Piedmont and enters the lower Coastal Plain.

This Early Man site gives great evidence of how Paleo Indians migrated south from the Williamson Site to the Boney Site and either set up several campsites or perhaps visited the site on several different occasions. He brought with him finished Clovis–like points and tools, along with the raw lithic chalcedony from the Williamson Site. This is truly a unique Paleo Indian site in the East.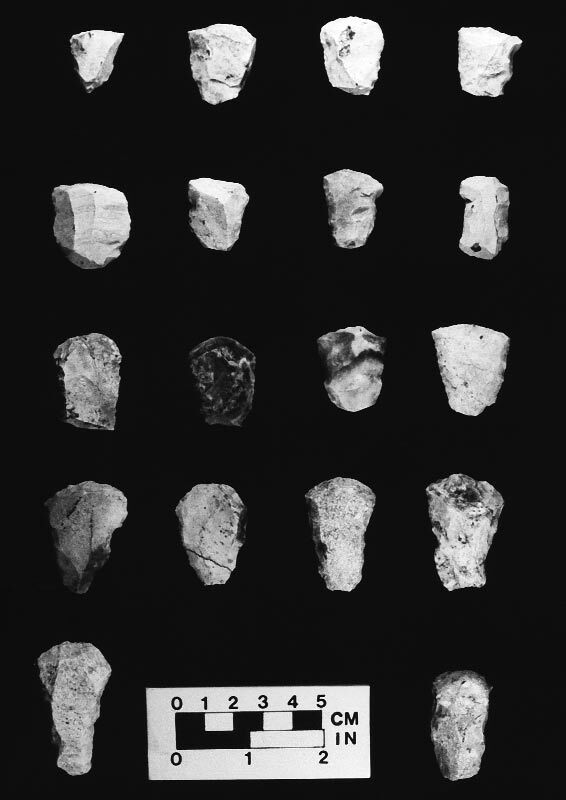 Acknowledgement
I wish to commend and thank Mr. J. Howard Boney and his family for their contribution to the research of Early Man in Virginia. It is not often that one has the opportunity to make such a statement to the knowledge of the study of Early Man, and Mr. Boney and his family, through their knowledge, hard work, and skills, have taken advantage of this opportunity to further the knowledge about Early Man in Virginia and the East. .

REFERENCES
Anderson, David G. and Kenneth E. Sassaman
1996 The Paleoindian and Archaic Southeast. The University of Alabama Press. Tuscaloosa, Alabama.

Boney, J.Howard
2002 Personal Communication.
Bonnichsen, Robson and Karen L. Turnmire
1991 Clovis Origins and Adaptations. Oregon State University. Corvallis.
1999 Ice Age People of North America. Oregon State University. Corvallis.
Coe, Joffre L.
1963 The Formative Cultures of the Carolina Piedmont.
Transactions of the American Philosophical Society, Vol. 54, Part 5. Philadelphia, PA.
McAvoy, Joseph M.
1992 Nottoway River Survey, Part 1, Clovis Settlement Patterns. Archeological Society of Virginia, Special Publication No. 25.
Painter, Floyd
1970 The Cattail Creek Fluting Tradition and It's Complex- Determining Lithic Debris. Southeastern Archaeological Conference, Bulletin #13.
Peck, Rodney M.
1959 A Paleo-Indian Camp Site in Isle of Wight Site. The Chesopiean, Vol.7, No.1. Norfolk, VA.
1985 The Williamson Site, Dinwiddie County, Virginia.
Kannapolis, NC.
1997 Eastern Fluted Points. Kannapolis, NC.
1998 The Isle of Wight Paleo Indian Site. Central States Archaeological Journal, Vol. 45, No. 4.
Peck, Rodney M. and Floyd Painter
1984 The Baucom Hardaway Site: A Stratified Deposit in Union County, North Carolina. The Chesopiean, Vol. 22.
Wormington, H.M.
1957 Ancient Man in North America. Denver Museum of Natural History, Popular Series 4. Denver, Colorado.