| | |
| --- | --- |
| A fascination with Discoidals | by Bruce Butts, |
| Central States Archaeological Societies 2006 January Journal | Winterville, Georgia |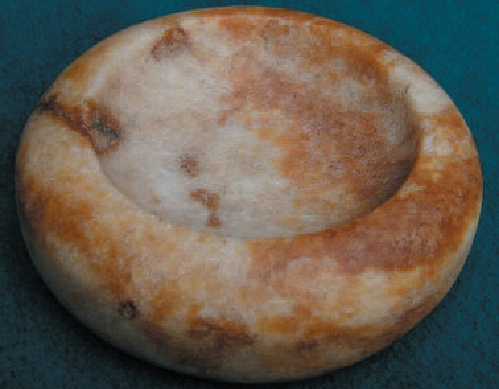 I have always been fascinated with discoidals. When I got a phone call from a very nice lady who said she was pretty sure she had one from the Etowah River near the famous mound site, I tried not to get excited. She had received my name from the internet and research led her to an article I had written on Circle Roller
Discoidals in the CSAJ October 1998. Since I was fairly close to their farm, she asked me to take a look at it. Her family farm had been in the family for over 150 years and it always produced some arrowheads, pottery shards, etc.

The family brought it to my home inside an old tin box, wrapped in a towel since the day it was found. After seeing my collection and the assurance the Discoidal would remain in Georgia, they said "they felt they had come to the right place."

The Disc is the Tennessee type and featuring a small center dimple in the variegated gold/ white/ rust colored
quartzite and measures 5 1/2 in diameter. In respect for this extremely nice family who's son has joined in farming the land, the exact location of this find will remain anonymous. It just goes to show that it pays to publish articles. This is what helps to make Central States Archaeological Journal the best!
Copyright © C.S.A.S.I.