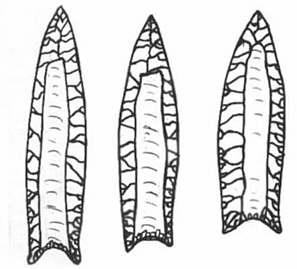 But some Clovis points have full length flutes and 'waists.' Some Cumberlands sport no or minor flutes and have a squared base. The Cumberlands should be more diamond shaped in cross section, narrower and thicker than the lenticular or flattened cross section of Clovis. There will often be fine work (Folsom-like, some would say) on the Cumberland bases. Reworked specimens of each present problems in classification, but I don't think that is what is represented in the CSAJ.
Although found in Pennsylvania, the Cumberland is not a dominant form, but I believe it to occur more in Pennsylvania than any other of the Northeastern states, where there is an occasional specimen noted. A lot is made of the Cumberland from Dutchess Quarry Cave site in Orange County, New York, because of its date of 10,580 BC (which some question), but also because it's one of few classic form Cumberlands from the Northeast. Several others are shown in the bottom row of the photograph (Figure 3).
I feel the two, Cumberland and Barnes, should be combined. Otherwise, questions arise. If distinct, where do the areas of the two interact, and within those areas what distinction can be made between the two types? Is any lightweight, small Cumberland or slender Clovis a Barnes? At any rate, if it isn't Cumberland, it can't be a Barnes. What do you think?
Figure 1: Illustration of Barnes Fluted points from the Thetford II Site, a Parkhill site in Ontario, Canada.
what I consider Clovis and Cumberland/Barnes points, hereinafter referred to as Cumberland. The top row are Clovis, with the first specimen being a Debert type. The bottom row represents Cumberlands as seen in Pennsylvania. As can be seen, these are more slender, often fishtailed, gracile, eared and more fully fluted.